Mortgage Broker
in Ottawa
Working with the best mortgage broker in Ottawa isn't difficult—all you need to do is get in touch with Borrowing Made Simple. We're an experienced mortgage broker who can help find the best rates and secure the terms you're looking for. Trust our expert, knowledgeable brokers to support you throughout the mortgage process and guide you on the path to financial success. Give us a call today.
You can reach us at (343) 763-2019 to get started.
Homebuyers Turn to Us for Mortgage Guidance
If you're looking for a new home, you have a lot to consider. Before you can start shopping around for homes, you need to understand what kind of property you can truly afford, and working with a mortgage broker is the first step.
The mortgage experts at Borrowing Made Simple have been assisting families, couples, and individuals in Ottawa for many years. We will take the time to understand your financial means and help you apply for a mortgage. We work with banks and private lenders, so you'll have many options to choose from.
Our team wants to help you find the best mortgage rates in the area to get into a home you can afford sooner.
To learn more about the services we offer or to schedule a consultation at our brokerage today, please dial (343) 763-2019.
The Benefits of an Expert Brokering Your Mortgage
Once upon a time, the standard procedure when shopping for a mortgage was to go to the bank, sit down with their experts, and discuss your options. The big catch in this way of doing things was that these experts worked for the bank before working for the client.
Going to the bank for mortgage shopping was once the only way to do things, but these days it could be a big mistake—the times have changed. In Canada, mortgage brokers are becoming increasingly popular as potential homebuyers have realized it's a more effective way to ensure the person guiding them and offering advice has their best interests in mind.
Regardless of the mortgage terms you're looking for, finding the lowest rates on your mortgage will always be in your best interest. We're here to help you shop around, compare, and negotiate to find the lowest possible rate.
Mortgage Brokers Who Assist with Unique Financial Situations
We're here to help people in all different financial positions. We want to put together a mortgage that works for you! As Ottawa's finest mortgage broker, our job is to set you up with the best lender for your specific needs. Whether you're a freelancer, unemployed, have bad credit, or are struggling to find a mortgage for any reason, we'll work with you to achieve your goals and give you straightforward advice on what we think the best move is for you.
If you've been having trouble getting approved for a mortgage by yourself, it could be time to speak with us. We can do our best to leverage our weight in the community to get you the approval you need, and if not—we can tell you what to do to get on the approval path.
Make Wise Decisions with Smart Mortgage Advice
If you're struggling to find the time to meet with every lending institution to examine their lending policies and compare rates, you're not alone. Other factions, in addition to a wide variety of options to choose from, might be making it more challenging to borrow, including being self-employed or approaching the situation with a background of bad credit.
If you're facing challenges in finding the right mortgage, it's in your best interest to seek mortgage advice from a certified professional. A mortgage broker can take the time to examine your financial background individually and identify opportunities that make your goals of homeownership come to life.
Perhaps you've approached a bank to consider a mortgage and have been turned down in the past, or you're hesitant to accept the rates they're offering because they're higher than you expected. If that's the case, our finance brokers are the perfect match to help you secure the rates and terms you need to make your transition into homeownership as easy and stress-free as possible.
To accomplish this, we get to know your unique circumstances in great depth so we can connect you with home borrowing that makes the most sense for you. Big banks don't have the time or resources to get to know your background personally, so they can miss significant opportunities for you to capture excellent rates and big savings. We put in the time and work to look at your situation and help you make the right choices.
Make wise decisions when you partner with a broker who puts your best interests above the rest. Connect with our licensed team today to get started with a risk-free initial consultation.
Hiring a Mortgage Advisor Makes It Easier to Get a Home Loan When You Have Bad Credit
Don't get frustrated if you're approaching the prospect of homeownership with a less-than-perfect credit standing. Hiring a mortgage advisor is a great way to ensure you're getting the best rates and terms for your one-of-a-kind situation because we have access to more products and services than any bank can offer alone.
Our diligent advisors are familiar with current mortgage options—we study changes and rate fluctuations across all available lending platforms. When you put your trust in our proven specialists, you don't have to worry about finding the best terms—we have you covered.
Let us explain each option's finer details so you can select one that offers the most benefits. Call today to reserve an appointment for a no-obligation consultation.
Mortgage Solutions for the Self Employed
If you're self-employed, you may already know there will be additional barriers you must face to enter into a mortgage agreement with a bank. If this daunting process doesn't appeal to you, you can always let us take the reins, helping you overcome obstacles and realize your goals with excellent borrowing terms and conditions.
Self-employed individuals can have difficulty getting ideal financing options for the properties they want because banks tend to undervalue their income. Reach out to our experts to learn more about how working with an industry-leading home loan broker will provide you with the most advantages and peace of mind. Book a consultation today.
One-Stop Mortgage Brokerage Shop
When you work with us for your mortgage brokering needs, you can feel confident in the fact that we're certified experts on the subject. We'll shop around and find what works for you, using our experience to find the best combination of rates and terms to set you up for long-term success. We've worked with many clients with differing backgrounds, finances, and desires, helping them to make concrete strides toward their future.
We have access to multiple products from different vendors. Among our inventory of mortgage options, there's sure to be one that meets your specifics. Our access to these products is your access to them, too. As a long-standing mortgage broker in Ottawa, we're familiar with the many options for homebuyers in the city. Depending on your financial situation and long-term goals, we can point you in the direction of trusted brokers that we think you could benefit from working with.
Book a Meeting with a Trusted Mortgage Broker
If you're curious to know what kind of property you can afford, we invite you to get in touch with our mortgage brokers. We will help you get pre-approved for a mortgage by asking you a few questions about:
Your current employment and income level
Any assets you may have
The status of your debt
The rent you pay
Your marital status
History of bankruptcy and foreclosure
Obtaining this information will help our experts get a more nuanced idea of your financial standing, and what kind of lenders would be willing to work with you, and potentially how much they'll offer.
Once this information is squared away, we can begin the process of having you pre-approved.
Mortgage Loans from Banks and Private Lenders
While many of our clients choose to get their mortgage through their bank, others will work with private lenders. It is important to explore your options when shopping for a mortgage because you never know what kind of interest rates are out there until you have a good look.
Our team can help shop for the right mortgage lender and provide you with the guidance you need to make the right decision for you.
Easy to Grasp Mortgage Assistance
Finding the right lender isn't always easy. The process can be overwhelming and full of jargon that you may not necessarily understand – that's why working with an experienced expert is just so important. We will streamline the process and be here to answer your questions and address concerns all the way through. Our team strives to provide simple and hassle-free services so you can move forward with your move with confidence.
We pride ourselves on our ability to communicate clearly with our clients. Please let us know if you have any questions throughout the mortgage buying process. We will break down the information as much as you need us to for you to have a firm understanding of the topic.
We are the team to choose from for all your mortgage needs. Come to us for our communication skills and our great rates.
Great Rates on Mortgage Broker Services
If you're looking to buy property, you have a lot of money to spend on the horizon, and you don't want to spend all your extra money on mortgage broker services. Equally, however, working with a mortgage broker is a long-term investment that will help you save money on mortgage rates into the future.
Our team is proud to provide some of the most competitive rates on mortgage services in the local area, and we'll always provide you with transparent pricing information from the get-go. Call us to learn more!
Reach the Area's Best Mortgage Experts
Homeownership is a big step for any Ottawa family or individual. Before you can make that big leap into the housing market though, you first need to secure a mortgage. In order to make sure your mortgage loan suits your existing and future financial situation, you need to seek the assistance of a trusted intermediary. That is where the independent mortgage brokers at Borrowing Made Simple come in.
We help clients of all distinctions find the right lenders for their mortgages. We make sure the terms are set in your favour and no one else's. If you want low mortgage rates and favourable outcomes, contact us at (343) 763-2019. We cannot wait to serve you.
Helping Homebuyers Every Day
Buying a home is one of the biggest purchases you will ever make—ensure that you are making the best deal possible with the licensed mortgage brokers at Borrowing Made Simple. No matter what type of buyer you are, we will take the time to understand your situation and help you find the best mortgage solution for your needs. Our professional resources and thorough approach allow us to guarantee the lowest possible rates for our clients.
Don't waste time and, potentially money, by going through the tedious process of speaking with lenders on your own. Allow us to take care of the job. Given your situation, we have access to hundreds of credible lenders and can always find you the best rates. Our job is to make your mortgage finding process easy. Over many years, we have developed our service so that you can sit back and let us take care of the job. Just sit down with us for 10 minutes, tell us your situation and leave the rest to us.
We Are Your Advocates
We're more than just service providers. We're your advocates during the entire home buying process. You'll be able to look to us when you have questions about mortgage products, financial instruments, and the houses on the real estate market. We welcome every query and do our best to provide the most precise answers possible.
When navigating the many mortgage products and financial instruments available today, it can be hard to know where to turn. Despite the upstanding nature of reputable lenders and creditors, they're incentivized to operate with their company's best interests at heart. Their position can make negotiating the terms of a mortgage quite challenging—especially if you're new to the world of homeownership.
With us by your side, you'll have the guidance, counsel, and representation of accredited professionals. Not only are we professional, but we're only ever interested in working on your behalf. As independent brokers, we are not beholden to any lenders. When you request our services we work for you and you alone. We strive to secure you the most favourable payment agreements, interest rates, and more.
We are time-tested navigators of the tricky waters of mortgage finding. We know this process like the back of our hands, and we understand that you are not experts. As mortgage specialists, we are on the clients' side. We will advocate for you at every corner and find you the lowest deals possible. Our job is to provide a detailed and specific mortgage broker service, and that's just what you'll get.
Give us a call at (343) 763-2019 to schedule a consultation and start the home buying process.
Convenient Services for Better Rates
Many financial institutions are within reach of homeowners, but some are better suited to serve you than others, and determining the right course of action can be tricky. Thankfully, our mortgage lenders are here to help you. We can pair you with the right lender for your financial situation. We'll make sure you secure a mortgage with interest rates and premiums that suit you today, tomorrow, and for years to come.
If you aren't a mortgage expert, why go through the trouble of doing all of that research about lenders and banks yourself? We have the expertise you need to speed up your mortgage finding process. You'll be able to use your valuable time looking at properties to invest in while we find a mortgage that will set you up for success.
Our services are much faster than speaking with the bank. Setting up a mortgage appointment with banks takes long enough. When you hire Borrowing Made Simple, we do away with that entire process. All you must do is call us, find a time to sit down, and in 10-minutes, we can give you an accurate idea of whether the mortgage you want is a good fit. After the fact, we will begin researching the perfect mortgage for you. With access to as many different lenders as we have, we will understand your circumstances, compare them with lenders, and find you the best deal available.
Please take advantage of the many benefits offered to you when you reach out to us. In as little as 10-minutes, we can give you an accurate picture of your mortgage situation. Call (343) 763-2019 today to speak with our experts and book your no-obligation mortgage consultation.
Borrowing Made Simple Provides an Easy-Going Mortgage Process
The local branch of your bank might seem like a good place to visit for mortgage-related matters, but a bank can only offer you a limited number of mortgage products. Mortgage brokers like those at our firm can connect you with an extensive array of lenders. When you have the power of choice on your side, you have more leverage to get the outcome you want and secure the most favorable mortgage for your future.
When you decide to choose our services, we will guide you through the process much faster than you could on your own. We have access to many lenders and will fast-track the mortgage assessment process for you by completing a strategy call. This allows us to determine whether the mortgage you're applying for will be a good choice for you in as little as ten minutes.
Contact our team today if you are looking for a helpful and friendly mortgage broker who will get you the best rates on the market.
Providing Mortgage Efficiency
Efficiency is key in our line of work. Our clients don't want to spend weeks or months searching for the right mortgage products. More often than not, people expect to wait only 10 to 12 business days for pre-approval. From pre-approval and home inspection to receiving the actual home loan, many people wish to wait only 30 to 35 days. We work to ensure that you don't have to wait any longer than necessary and to meet your expectations as closely as possible, given your situation.
Getting your mortgage through as quickly and efficiently as possible is made easy when you contact Borrowing Made Simple. When you get in touch with our team and tell us about the type of mortgage you are looking for, we will relate your circumstances and limitations to the lender's criteria. We'll narrow down the information we get and find you the lowest mortgage rate possible for your needs every time.
Make this complex process easy on yourself — hire a team of professionals that cares about positioning you on the path to stress-free homeownership.
Don't Go Through the Banks Yourself! Hire a Mortgage Broker
When people decide to find the right mortgage themselves, they are taking on a more significant challenge than they may have initially thought. The process of finding the right mortgage specific to your needs involves hours of speaking on the phone to potential lenders, booking appointments, researching bank criteria, and risking losing money through misunderstanding those criteria.
If you are in the home buying market, get it done right the first time, and fast by contacting Borrowing Made Simple today. One of our seasoned mortgage brokers will set up a consultation session for you at your earliest convenience.
Detailed, Client Specific Mortgage Service from Start to Finish
The main thing that sets our services apart from the rest is recognizing that every client's needs are different. When you contact us, we take the time to carefully analyze all of the various elements of what you require in a mortgage. After all, there is no one-size-fits-all option when it comes to mortgage lending, and we know that better than anyone. We advocate on your behalf to find the best mortgage for your specific needs, now and into the future.
By the end of your service with us, we are sure that you will thank us and even recommend us to a friend. Not only will we save hours of stress in the mortgage process, but for a reasonable rate, you will receive helpful mortgage advice from seasoned experts in the field. We'll find you the best rates and the best options available in the area.
As a part of providing exceptional service, we emphasize the importance of providing fast service. We emphasize speed because we value your time. If we don't give you expert services quickly, we know that you will take your business elsewhere. We want to prove to you why we are in the highest tier of mortgage brokers in Ottawa. Allow us to provide to you the highly detailed and specific service that we have a reputation for. Join our long list of satisfied clients any time you wish.
Contact our team today for an effective mortgage finding process and incredibly low rates.
Acquire Low-Interest Rates Now
Every mortgage agreement is different. Some lenders are eager to offer any client a loan for their new home, but that doesn't mean the terms of the mortgage are advantageous in the long run. When securing a mortgage, the most important factor to consider is the interest rate. The interest rate on your mortgage might be the thing that keeps you from paying off your loan in the decade you had intended to do so.
As your advocates, we will enter into negotiations with the preferred lenders to secure the most suitable interest rates for your financial situation today, tomorrow, and for years to come. With us by your side, you'll find the most flexible and reputable lenders.
Get Pre-Approved for a Mortgage Today
We've helped countless clients get pre-approved for their home mortgages. Before you start looking for a home, it's essential to know what kind of mortgage you can afford. The pre-approval will give you the information you need to begin your search for a property.
Our team works with prospective homebuyers to understand their financial situation and estimate how much money they should be looking to spend on a new home.
When you contact our experts, we will schedule a consultation at your earliest convenience. To start the pre-approval process, we ask that you bring the following documentation with you to the meeting:
Proof of Income
We will need wage statements, recent pay stubs, proof of alimony or bonuses, and tax returns from the past two years.
Credit Score
It's important to have good credit when it comes to buying a property. Having a high credit score can help you get a low-interest rate on your mortgage.
Proof of Assets
Bank statements and investment account statements are needed to prove you have money for a down payment and closing costs.
Personal Information
We will also collect a copy of your driver's license, social security number, and signature. This information will allow a prospective lender to access your credit information.
If you are unsure where to locate some of these documents, be sure to let us know. We'll point you in the right direction so that you can be prepared for our consultation.
A Mortgage Broker with Connections
Knowing where to turn for your mortgage can be challenging. We can point you toward a reputable lender, and we will leverage your position as a worthwhile applicant to secure suitable terms.
As your mortgage broker, it is our job to connect you with prospective lenders. Our team is proud to have connections throughout Ottawa and the surrounding area. We have connected our clients with banks, private lenders, and more.
Eliminate Confusion with Our Mortgage Specialists
Buying a home is not as simple as selecting a property and submitting an offer. In between those two stages there is much work—and much paperwork—to consider. We are here to help you through every stage of the process.
When taking out a home loan, you might find yourself conflicted and lost with information. It certainly helps to find a mortgage broker who will take the time to help you understand your options. Our goal is to make the home buying process a straightforward one. We offer client-focused appointments and accommodating service.
If you have any questions along the way, our mortgage agents will be more than happy to clarify the process and make sure you feel confident in your purchasing decision.
Get a Mortgage That Matches Your Needs
Are you a first-time homebuyer? Are you looking to skip the qualification process and acquire a pre-approved mortgage? Whatever the case, we can help you. We serve individuals and families of all distinctions.
With so many different options in the real estate market, it can sometimes be difficult to find a home loan that aligns with your financial situation. Luckily, our wide range of specialized mortgage solutions helps to ensure a mortgage that works for you.
Some of the mortgage solutions that we are proud to offer include:
First-time homebuyers
Pre-approvals
Mortgage refinancing
New to Canada loans
Renovation financing
And more
Ready to make the leap into homeownership? Now is the time to pick up the phone and call (343) 763-2019. We'll schedule a consultation for you to come in and explore your options.
Our Mortgage Brokers Get You the Rate You Deserve
Nobody ever wants to pay more than they have to—especially when it comes to a big purchase, such as a mortgage. Rushing into the first option that you come across could potentially result in thousands of more dollars paid over the length of your loan.
Our brokers will help you avoid this through our in-depth approach and valuable professional resources. We will not stop researching and negotiating with lenders until we are completely certain that we have secured you the best deal possible.
Fantastic Customer Service from Our Mortgage Team
We understand that buying a property can be stressful, especially if it's your first time. Our team is here to support you and provide you with the information you need to make the very best choice based on your finances. We don't want to get our clients into a situation where they're in over their heads, and we always want to give you a range of options, so your money is flexible. If you have questions or concerns at any time, before or after you've found the right mortgage, our team is happy to listen, so don't hesitate to get in touch!
Mortgage Brokers with Extensive Experience
Not only do our brokers have years of extensive experience working in the industry, but we also have a keen knowledge and understanding of the housing market in Ottawa. We know what kind of loan you need to get the house you want, and we can provide you with guidance and the information you need to make the best decisions for your purchase.
Find a Mortgage You Can Afford
Many people come to us for mortgage services thinking there's no way they can afford certain mortgages and rates. They've seen rising costs of homes in Ottawa and the surrounding area and are scared of being priced out of the market. We're here to tell you that you don't have to be so discouraged. There are mortgage options for you that will help you find a home you can afford.
Borrowing Made Simple is the expert at working with you to find a loan option that you will be able to work with, based on your income, timeline, assets, and other factors. If you're unsure what sort of loan or mortgage you would qualify for, that's okay! We're here to help you better understand your finances so that you can set realistic goals and expectations and get on your way to homeownership.
To book a meeting with one of our mortgage broker specialists, give us a call at (343) 763-2019 today. We'll be happy to help you find a solution for purchasing a home.
Buy Your First Home with Borrowing Made Simple
For many young Canadians, buying a first home can seem like a dream that's forever out of reach. While it's true that entering the world of homeownership is a major life investment, it's not true that you're on your own when you decide to approach the major decision. You can get help towards getting your first home. All you have to do is work with an experienced mortgage broker.
At Borrowing Made Simple, we take incredible pride in helping Canadians from all walks of life step into their first home. We offer mortgage rates and loan options that can help you instead of hurting your finances in the long run. We have always aspired to help anyone purchase their first home, and that's what we'd like to do for you.
If you're considering purchasing your first home, come to us to get a mortgage that will work for you over time. We have the expertise to give you incredible advice and guidance as we put you on a path towards the independence and security of homeownership. Reach out to us at (343) 763-2019 to book a consultation.
Get Educated on Mortgages from the Best
The world of mortgages and homeownership is a complicated one. There's no denying that looking at the market and seeing various prices, rates, and mortgage options can seem daunting for a new prospective homeowner and established owners alike. It's not an easy business to make sense of, but the truth is simple – you aren't alone.
Are you unsure what questions to ask the mortgage brokers at our firm? Don't worry. We don't expect every one of our clients to have enough time to formulate all their essential queries. Feel free to ask our agents any of the following questions:
Is mortgage pre-approval possible?
Are there fees for your services?
Are there ways to save on interest?
Should I budget for potential closing costs?
Should I seek out a standard or collateral mortgage? Which do you provide?
Are there any restrictions on mortgage refinancing that I should know about?
What should I expect from the approval process?
What are the differences between fixed and variable-rate mortgages?
What should I know about mortgage penalties?
Borrowing Made Simple is here to help you learn more about the world of mortgages and money lending. We want to be your educator, helping you understand the types of mortgages and interest rates available and the sort of rates and loans you can afford. As your local mortgage broker experts, we're here to provide you with the knowledge so that you can move forward safely and wisely. To book a meeting with a specialist, and learn more about your options, reach out to us today!
Great Mortgage Rates at Borrowing Made Simple
Federal law caps mortgage broker fees at three percent. Some mortgage brokers may charge this much, while others might charge less. Whatever the case, you should expect your mortgage broker to work tirelessly on your behalf regardless of their fee percentage.
We want to assist as many deserving homebuyers as possible, and that's why we are proud to offer our mortgage services at competitive rates. When you contact us, we will be happy to provide you with pricing information and an accurate cost estimate before we get to work.
Do you have questions about what our services entail? Do you want to know what to expect during the lending process? Ask us any questions that come to mind. Providing you with transparent pricing is just one of the many ways we work to make customer care and satisfaction a top priority.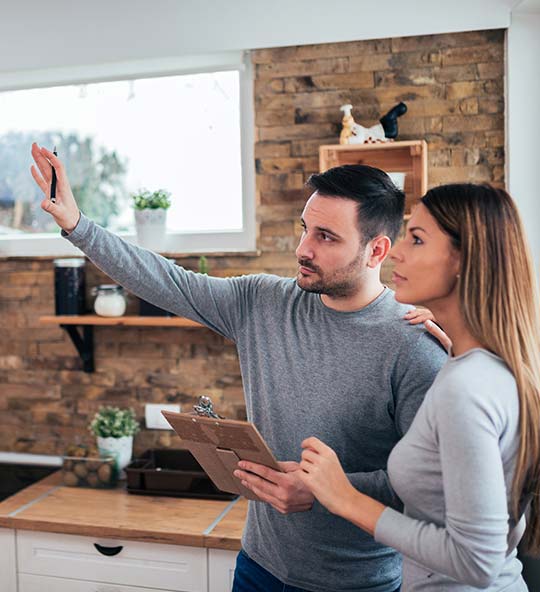 Save Time with a Canadian Mortgage Professional
People want to move quickly when it comes to the home buying process. The stress of searching through listings, meeting with banks, and losing out on potential homes is a lot for any family or individual to endure for long. We take great pains to streamline the home buying process for you. Rest assured, your time with our mortgage brokers will go as smoothly as possible.
Purchasing a property can be a highly time-consuming process, but it doesn't need to be! Our hardworking team of home loan brokers will assist you in any way possible. We will help you avoid the busywork of the home buying process and ensure an efficient turnaround. Once you have decided that you are ready to take the leap on a new property, our agents will take care of the lengthy process of securing the loan and gathering all the necessary paperwork.
Start Your Home
Loan Process

Today

Here at Borrowing Made Simple, we take pride in our honest approach to purchase financing. We promise to do everything we can to provide you with a mortgage that allows you to get the home you want without straining your budget. If you would like to know more or start exploring your options, we encourage you to contact us at (343) 763-2019.